In the newest episode of the Blue Ribbon College Basketball Podcast, hosts Chris Dortch (@cdortch) and Kevin Ingram (@KIngramSports) welcome in ESPN's Seth Greenberg (@SethOnHoops).
Some of the topics the guys discuss:
Possible scenarios for the start of the 2020-21 college basketball season

How bubble events could be structured

The financial issues for mid-major schools with a potential conference-only schedule

How coaches are having to adapt to recruiting and offseason player development

The importance of having experience in college basketball
The Blue Ribbon College Basketball podcast will be available on Apple Podcasts, Spotify, and more podcast platforms soon.
For now, you can simply listen in your email client or click on the "Listen In Podcast App" link above to listen in your podcast player of choice.
---
Coming up on Thursday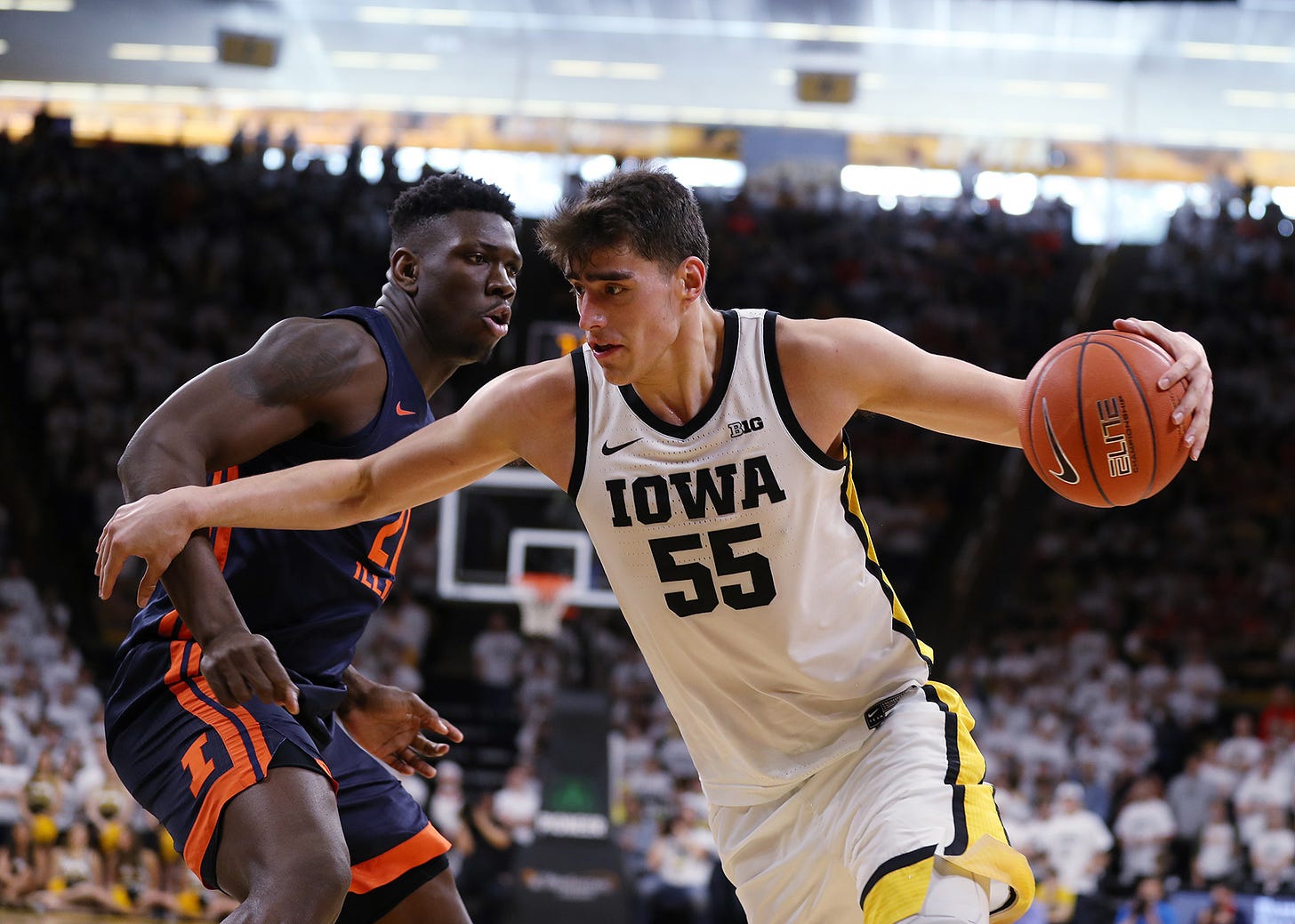 Thanks for listening to this free podcast from the Blue Ribbon Report.
In Thursday's long-form edition for paid subscribers, Chris Dortch shares the story of Iowa star Luka Garza, Blue Ribbon College Basketball Yearbook's National Preseason Player of the Year. It's one of the most in-depth profiles you'll ever read on the best player in college basketball.
Here's the intro to this incredible 4,000-word feature:
College basketball's most unstoppable force is about to become that much tougher to guard. Luka Garza is busting out the skyhook.

It's only fitting that Garza, Iowa's 6-foot-11, 260-pound force of nature who racked up a fireplace mantle's worth of honors last season, would unleash that particular weapon on unsuspecting defenders. One might say it's the destiny of the man who last year won numerous national player-of-the-year awards, consensus first-team All-America accolades, the NABC Pete Newell Big Man of the Year award, and the one trophy that might have meant the most to him—Naismith Kareem Abdul-Jabbar Center of the Year.

That's because, as Garza has recounted many times, at an age when his friends were watching cartoons, the Disney Channel or Nickelodeon, Garza was pouring over old NBA game tapes. Garza's father, mentor and first skills coach Frank, who is 6-7 and played college basketball at Idaho, correctly reasoned he and Garza's mother Sejla, who is 5-11 and played professionally in Europe, had a son with the potential to grow into a physically imposing big man.

Frank Garza was going to make sure his boy had the right tools of the trade.

So goodbye cartoons and hello watching tapes of Jake Sikma's reverse pivot; Hakeem Olajuwon's Dream Shake; Kevin's McHale's smorgasbord of head fakes, drop steps and fadeaway jumpers; and above all, the signature weapon of the NBA's all-time leading scorer Kareem-Abdul Jabbar—the skyhook.

When he was younger, Garza would practice all those moves and more on a mini hoop in the family's basement. As he grew older, his laboratory became a basket in the driveway. Who needed cartoons? The boy had become obsessed with basketball.
Subscribe now for only $7.99 per month (or save $24 per year with an annual subscription) to have it sent directly to your email inbox.
Also, be sure to pre-order the 40th-anniversary edition of the Blue Ribbon Yearbook for the 2020-21 season.