Luka Garza: Blue Ribbon College Basketball Yearbook's National Preseason Player of the Year (Free Preview)
Editor's Note: This is a free preview of the newest Blue Ribbon Report for paid subscribers. To become a paid subscriber, simply click on the link below the story. Thanks for your support of Blue Ribbon!
---
Born to play ball, Iowa's Luka Garza never stops trying to improve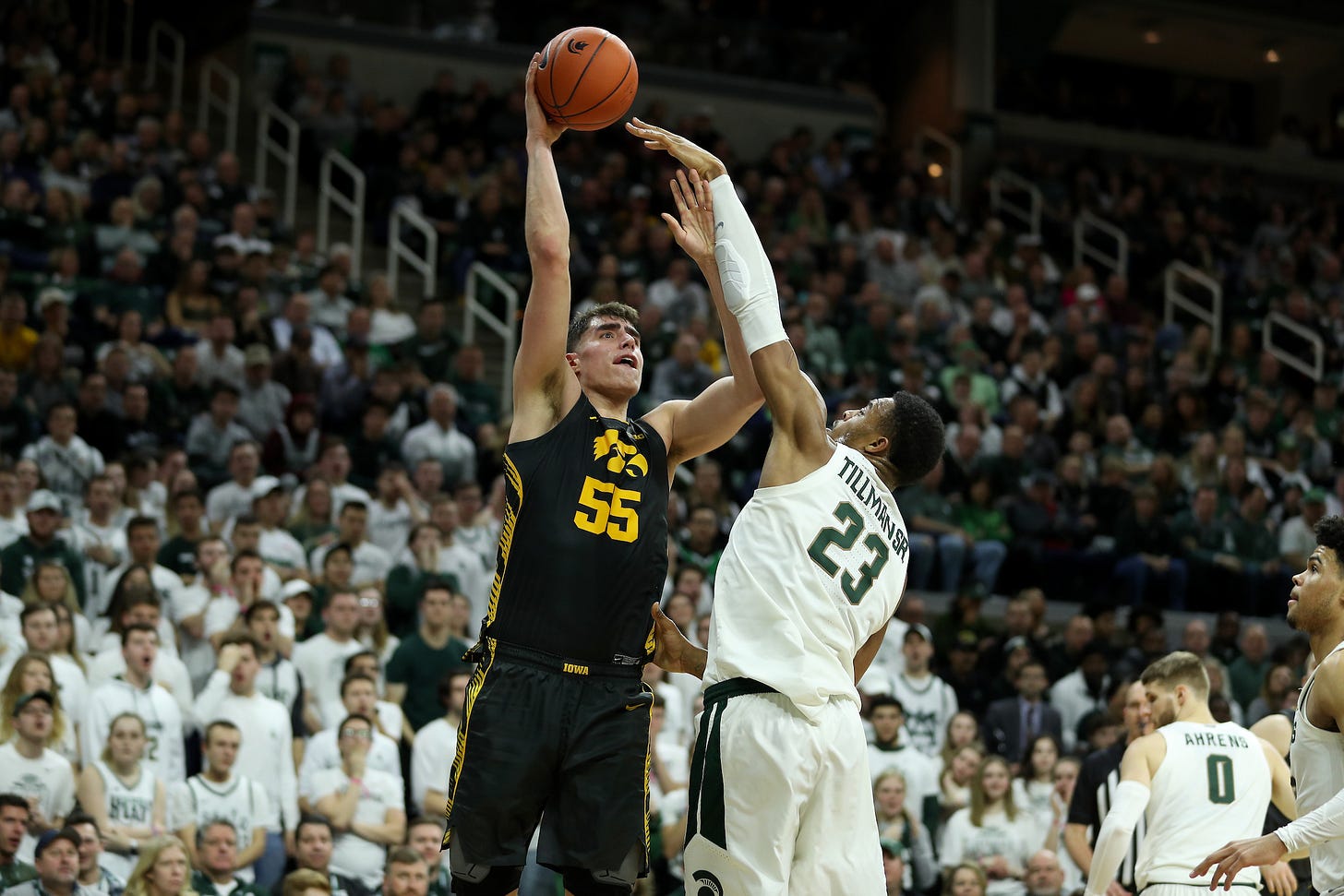 By Chris Dortch (@cdortch)
College basketball's most unstoppable force is about to become that much tougher to guard. Luka Garza is busting out the skyhook.
It's only fitting that Garza, Iowa's 6-foot-11, 260-pound force of nature who racked up a fireplace mantle's worth of honors last season, would unleash that particular weapon on unsuspecting defenders. One might say it's the destiny of the man who last year won numerous national player-of-the-year awards, consensus first-team All-America accolades, the NABC Pete Newell Big Man of the Year award, and the one trophy that might have meant the most to him—Naismith Kareem Abdul-Jabbar Center of the Year.
That's because, as Garza has recounted many times, at an age when his friends were watching cartoons, the Disney Channel or Nickelodeon, Garza was pouring over old NBA game tapes. Garza's father, mentor, and first skills coach Frank, who is 6-7 and played college basketball at Idaho, correctly reasoned he and Garza's mother Sejla, who is 5-11 and played professionally in Europe, had a son with the potential to grow into a physically imposing big man.
Frank Garza was going to make sure his boy had the right tools of the trade.
So goodbye cartoons and hello watching tapes of Jake Sikma's reverse pivot; Hakeem Olajuwon's Dream Shake; Kevin's McHale's smorgasbord of head fakes, drop steps and fadeaway jumpers; and above all, the signature weapon of the NBA's all-time leading scorer Kareem-Abdul Jabbar—the skyhook.
When he was younger, Garza would practice all those moves and more on a mini hoop in the family's basement. As he grew older, his laboratory became a basket in the driveway. Who needed cartoons? The boy had become obsessed with basketball.
As Garza's father thought, his son did grow tall and strong, and as he did so, he retained his love for the game and added a hunger for knowledge and the desire to improve. That Chuck Driesell, the son of legendary Maryland coach Lefty Driesell, became his coach at Maret School in Washington, D.C. seemed like divine providence; Chuck had been the head coach at The Citadel and before that had worked as an assistant for another Maryland coaching legend, Gary Williams. And ole Lefty jumped on board Team Luka, too, offering the boy coaching and counsel.
"Lefty loved my game," Garza says. "When I first met him, at that point, high majors weren't interested enough to make an offer, except Iowa. So Lefty says, 'where do you want to go to school? What's your dream school?" And then he gets on the phone with coach K [Duke legend Mike Krzyzewski] and [North Carolina's] Roy Williams. I actually got a letter from Duke. That showed how much Lefty believed in me.
"And Chuck and I, we built a strong relationship. I was the guy that was always in his office, talking basketball, watching film. He helped transformed my game a lot."
More knowledge was absorbed during month-long training sessions in Hawaii—where Garza's 6-8 grandfather James Halm, who had played at the University of Hawaii and Frank Garza's old college coach Bill Trumbo would help put the boy through his paces—and from Garza's 6-8 uncle Teo Alibegovic, the all-time leading scorer for the Slovenian national team who played at Oregon State with Gary Payton.
The result: surrounded by an array of former big men who just happened to be family, and supplemented by the Driesells and Trumbo, Garza developed the oldest of old-school games that would eventually fit in beautifully with the modern, position-less offense run by Iowa coach Fran McCaffery.
One of the luckiest days of McCaffery's life was the day he spotted Garza, then a sophomore playing in an AAU game.
(Cont.)
---
Thanks for reading this free preview
The full edition of the Blue Ribbon Report features the entire 4,000-word profile on Iowa star Luka Garza.
Simply click on the button below for subscription options (only $7.99 per month or save $24 per year with an annual subscription) to continue reading.
Thanks for your support of Blue Ribbon!