Introduction to Blue Ribbon Report, The Coaching Journey w/ FAU head coach Dusty May
Blue Ribbon launches a year-round college basketball newsletter
The 40th-anniversary edition of Blue Ribbon College Basketball Yearbook is available for pre-order! Click the button below to order your copy!
---
Letter from the Editor
By Chris Dortch (@cdortch)
Welcome to the first edition of the Blue Ribbon Report, which we think is a logical extension of Blue Ribbon College Basketball Yearbook, the "bible" of college basketball which this year will print its 40th-anniversary edition.
If you're familiar with Blue Ribbon, you know the quality of our work. We're called the bible because we're the most comprehensive preview publication in the game, read by dedicated fans; Division I coaches; NBA scouts; broadcasters from CBS, ESPN, Fox, and others; radio play-by-play announcers; and even the NCAA Tournament selection committee.
For many years, readers have asked us to expand our coverage beyond a once-a-year publication, and we think we've found a great way to do that. Thanks to the Substack platform, the Blue Ribbon Report has a home to bring our subscribers weekly content, to include player and coach profiles, in-depth reporting on and writing about trends affecting the game, and even a podcast or two.
I'll be joined in this endeavor by three gentlemen who love hoops and writing or talking about it as much as I do—Chris Lee, Blake Lovell, and Kevin Ingram. Chris and Blake have covered basketball for various publications and websites for many years, and since joining the yearbook's editorial team have made important, invaluable contributions. For the last seven years, Kevin Ingram has helped me co-host the Blue Ribbon College Basketball Hour, and now, this versatile broadcaster—who's the co-host of one of the top sports talk shows in the country, the radio voice of the Belmont Bruins and a play-by-play announcer for the SEC Network—will reprise his role as the show moves from radio to the podcast format.
We think you're going to love the Blue Ribbon Report. For the low price of $7.99 a month or $71.99 annually, it'll be delivered to your inbox every week throughout the year.
To all those fans who've been hoping Blue Ribbon might expand its role, we heard you. We think you'll love the Blue Ribbon Report as much as you love the yearbook.
---
The Coaching Journey: FAU head coach Dusty May
By Blake Lovell (@theblakelovell)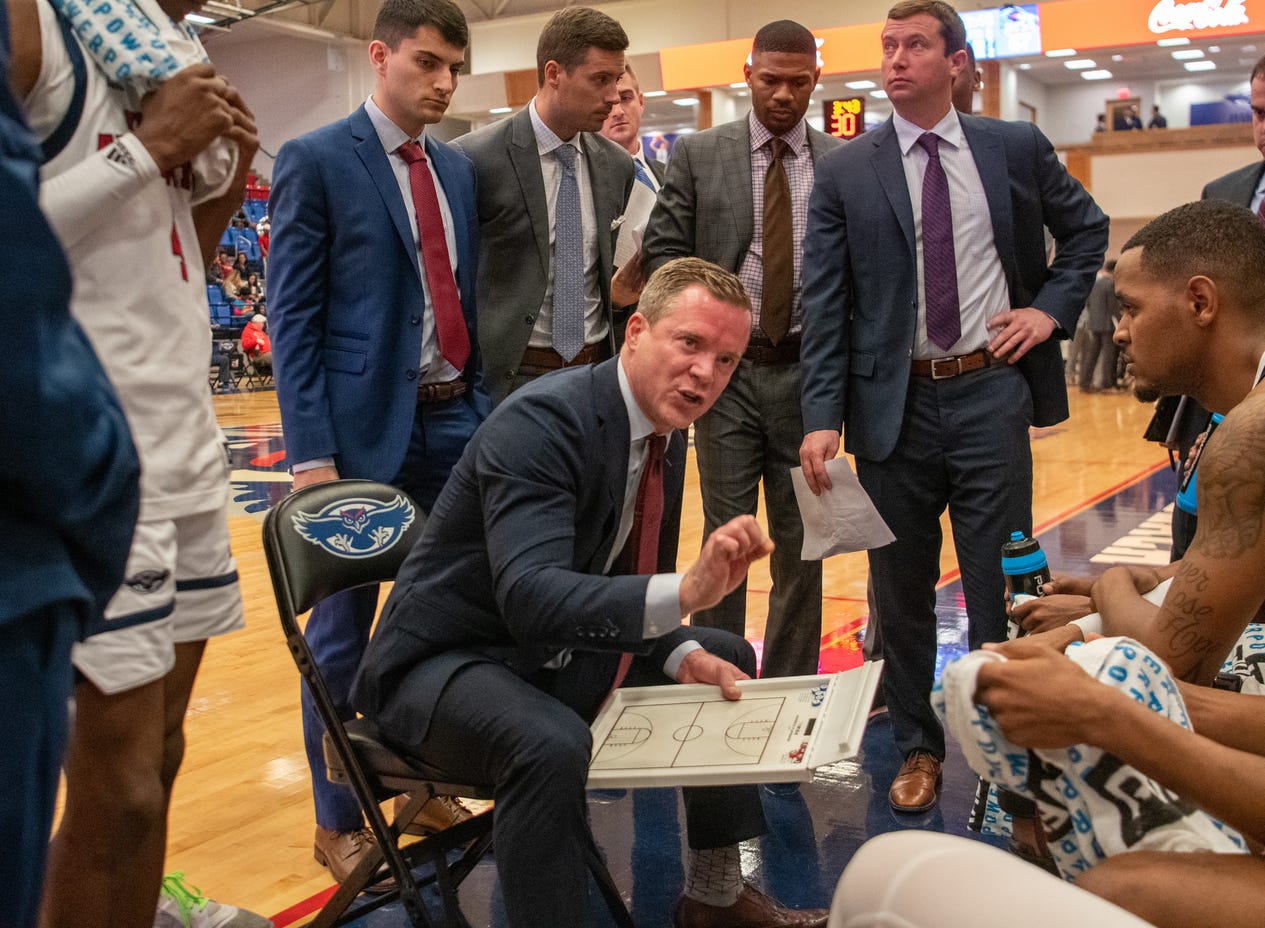 Photo Credit: Robson Lopes
Dusty May had to be involved with basketball. After all, he grew up in Indiana.
He fell in love with the game at an early age. He started playing in kindergarten and put all his energy into it.
If you asked his mother, maybe even a little too much energy at times. 
"I played with so much aggression my mom made me wear sweatpants because I had so many floor burns," May says. "I think it may have been a good release for me to play." 
From there, May's career in basketball evolved. The Eastern Greene High School graduate went to college with a clear goal of becoming a high school coach. His playing career continued, leading to a year of Division II basketball before deciding to quit.
The reason? The opportunity to learn from a legend—Hall of Fame coach Bob Knight. 
"I wanted to go back to Indiana to be a manager for coach Knight, and thought I'd be able to get a varsity job out of college," May says. "My second year, one of the assistants mentioned what all the managers prior to myself were doing. So, I changed my major, coached AAU, and started driving the coaches on recruiting trips and to camps and clinics just to get a feel for the business side of it. I was fortunate to be around people who really helped me out."
May was a student manager at Indiana for four years, immersing himself in the process of what made the program successful. That included not only the business side of things but also the basketball side of things.
That's where Knight's knowledge continues to play a role in the foundation of May's coaching philosophy. 
"I refer back daily to what I learned there," he says. "More than anything else, just the way he taught the game. His principles were instilled in everyone around him as far as work ethic, doing things the right way, and giving your all to every situation. 
"Honestly, the older I get, the more I refer back to it. You go on your coaching journey, you try to learn, and you come back full circle to where you were at the beginning with your core beliefs. I couldn't be more thankful for that being my starting point in coaching."
That experience kickstarted May's coaching journey. After graduation, he traveled across the country to take a video coordinator job at USC from 2000-02. He went back to Indiana and serve in an administrative role for three years before landing assistant coaching jobs at Eastern Michigan (2005-06) and Murray State (2006-07).
Then, he reconnected with former Indiana coach Mike Davis at UAB (2007-09). That became another invaluable stop in May's career.
"People don't understand how good of a coach he is," May says. "I've watched him on film as a player, and he was one of the best defensive players in the country. His role was to feed the post and play defense, and he ended up having a nice pro career. And then he evolved as a coach to become a great offensive coach. 
"What I learned from him is just how good he is with people, especially in recruiting and the relationship aspect. He understands different people come from different backgrounds, and you really need to think of it from their perspective. He taught me so many life lessons just because he was so open with sharing."
From there, May made his way to Louisiana Tech in 2009. He worked for current Oregon State associate head coach Kerry Rupp before the school changed coaches and hired Mike White. May assisted White in building the Bulldogs into a consistent winner, with the program winning 27 or more games in three straight seasons before the staff left for Florida in 2015.
Of course, that was another job connected to a coaching legend. Billy Donovan won back-to-back national championships with the Gators before making the jump to the NBA to coach the Oklahoma City Thunder.
White, May, and the new staff understood the challenge of replacing Donovan as soon as they walked in the door at the Florida basketball facility.
"There's a two-story mural when you come in the building, and the maintenance guy or someone asked coach White if he wanted to take that down," May says. "He said 'why would I want him to take that down? He's an NBA head coach and two-time national championship coach'. It was really fun working for someone who embraced everything that coach Donovan had worked to build for so long."
Rather than avoiding stepping into a great man's shoes, White encouraged his staff to embrace the opportunity. Luckily for May, he'd already been around a similar situation in Bloomington.
"Being on coach Davis's staff after coach Knight gave me a snapshot in how hard that is to do," May says. "You go to Florida and it's the same deal. You're replacing a coach that's revered as a person and as a coach. It's very, very difficult.
"I think what most coaches do is they want to go in and put their own imprint on the program and change as much as they possibly can. Coach White went in and decided there were very few things that needed to be tweaked. He embraced what they accomplished without any ego. It's a lot like coach Donovan. They're both great teachers in all areas. They don't make it about them."
One Elite Eight and two other NCAA tournament appearances later, May began a new challenge, going from assistant coach at Florida to first-time head coach at FAU in 2018.
He admits there were challenges in making that transition. Players listen more to the head coach, and you have to be more measured with your words. May's philosophy is to find players who want to get better and build a quality staff that does everything it can to help those players succeed.
The Owls earned a postseason CIT bid in his first season and have won 17 games his first two seasons. The expectations are even higher for his third year on the job, and May wants to keep finding ways to use the knowledge he's learned along the way from successful coaches like Knight, Davis, White, and others.
"We love where we are in year three," he says. "We're older, we're more talented, and we have some guys that have done it before in the program. We also feel like we've improved our recruiting classes all three years. Now we have to put it all together. 
"When we got the job, our goal was to earn respect as a program with how we played and how we recruited, and I feel like we've done that. We want to take the next step and win at a higher level."
In The Bonus
The most important lesson you've learned in coaching?
"Be available. Never turn down an opportunity to coach a team. Never turn down an opportunity to work a camp. Never turn down an opportunity to work a clinic where you can meet coaches and show the game is very important to you. And then try to be good in every area.

"Early in my career, every single year I really tried to master one subject. When I went to USC to work for Henry Bibby in Los Angeles, every workout guy in the country was there. And I came from Indiana where there weren't really individual workouts. I spent two years there obsessed with trying to become a better skill coach and individual coach to help guys in their own compartments.

"I learned to really focus on one area every year while you're younger and then use the assistant coaches you're working with and people in your network."
The most important habit you've seen with the players that have had the most success?
"The love of competition. Every guy I've coached that has maxed out their ability, they were elite competitors. They hated to lose. They were gonna give everything they had to win. They weren't scared of the moment.

"That's something that carries over into life. If you love to compete, you're probably gonna be successful."
Any books/podcasts/etc. that have made a huge impact on your approach as a coach?
"Probably my favorite author is Pat Conroy (Amazon). His books are a little bit of psychology and human nature, and obviously a basketball spin.
"I've been into Tim Ferriss with his podcast (Apple Podcasts). And then his book, Tools of Titans (Amazon). He takes the best in every field and breaks down their habits, routines, and rituals to find the common denominators."
One piece of advice for rising coaches?
"Embrace who you are and what your strengths are. Know thyself. We're not all great at everything. I'm not a former NBA or high-major player, but I have a different skill set and background.

"So, just appreciate who you are in your own journey."
---
Coming up in the next edition of the Blue Ribbon Report

Next week, our staff takes an inside look at the transfer phenomenon in college basketball. After every season, hundreds of players leave one school for another. For some, the change of scenery works out. For others, well, maybe they should have been a bit more patient. Blue Ribbon takes a look at some programs and coaches who have recruited transfers, with great success.
For the last several seasons, Gonzaga has taken advantage of sit-out and graduate transfers to help it maintain its status among the game's elite. Chris Lee reports on how the Zags use transfers to fill spots in their rotation. Blake Lovell writes about how even a program like Kentucky, which under the leadership of coach John Calipari has signed more five-star recruits than any team in the country the last decade, has come to rely on transfers. To get more insight into how the Wildcats approach transfers, Blake talks to Kentucky assistant coach Joel Justus.
And Chris Dortch talks to Kermit Davis (Ole Miss) and Steve Forbes (Wake Forest), two coaches who got their start coaching in junior college and know what to look for in a transfer, whether they're from JUCO or another Division I school.
"You have to really look into the situation," Forbes says, "and understand exactly why a player is transferring, and does he fit into what you're trying to do. It's not foolproof by any means. But the biggest thing you have to figure out is whether a kid is transferring for personal reasons, or does he want to go somewhere where he can be a part of something that's greater than him? Does he want to fit into a team concept? Does he want to win?"

"Obviously talent always matters," Davis says. "After that, you have to figure out how important winning is to these guys. You don't want it to be a one-year stop where they try and average 18 and go pro. Are they really trying to impact winning? It's not a science, but something we've really tried to make a huge point of."
San Diego State's Brian Dutcher and UAB's Andy Kennedy will weigh in on the subject, too.
Also, the Blue Ribbon College Basketball Podcast kicks off another year as co-hosts Kevin Ingram and Chris Dortch take the show they've produced the last seven years from radio to the web.
---
How to Subscribe
Thanks for reading this free, complimentary introduction to what you can expect from the Blue Ribbon Report.
The next edition of the Blue Ribbon Report is set for release Aug. 13.
Subscribe now for only $7.99 per month (or save $24 per year with an annual subscription) to have it sent directly to your email.
Also, to help us grow our audience, please consider sharing it with a few friends.